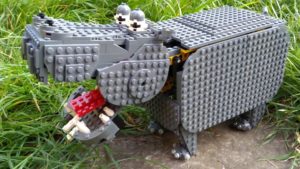 After meeting Hoover, the big male hippo at Whipsnade Zoo, personally last year, I decided I needed to branch out from drawing and painting hippos, and get on with making them in 3D, preferably with moving parts. The (very short) movie can be found on YouTube.
At last I've discovered the true purpose of Lego!
Tech note: I'm using a gazillion "dark bluish grey" bricks, and the Spots-not-on-top (SNOT! I kid you not) technique. The upper jaw is much too heavy to lift alone, so the lower jaw is weighted and acts as a counterbalance (they are operated via 2 meshed 16-tooth gears, one with a lift-arm for each jaw.) Even then, and geared down, the old 1980s Lego electric motor is having a difficult time. Note also the muck-spreader on the back!