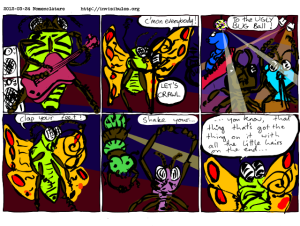 Here's my comic from Adam's exceptionally enjoyable comic drawing workshop at the University Museum of Natural History. We looked at giant models of insects and even cuddled live hissing cockroaches. This comic was drawn and inked at the museum, then scanned coloured at home in gimp.
Stop Press! I notice Adam has quoted me on his comic blog (not suitable for kiddywinks) …
↓ Transcript
1.
2. c'mon everybody! LET'S CRAWL
3. to the UGLY BUG Ball!
4. clap your feet!
5. shake your...
6. ...you know, that thing that's got the thing on it with all the little hairs on the end...